For Destination Partners
05 Approaching Strategy Development
Culinary Tourism Strategy Development
Guidelines
5
Resources
//
Guidelines
//
05 Approaching Strategy Development
Opportunities
As you begin the process of developing your rural or remote destination's culinary tourism strategy, you'll have the opportunity to:
Engage a diversity of stakeholders and collaborate across a range of food & drink, tourism, and economic development organizations.
Establish a shared understanding of destination identity across the stakeholders and communities in the region.
Build capacity amongst industry, whether it is to inspire innovation or to create new products or experiences.
Share strategy research with those that contribute to the strategy development.
Identify your current visitor markets and how culinary tourism can be used to appeal to them.
Make a plan to reach new visitor markets through culinary tourism.
Importantly, part of the opportunity and responsibility of culinary tourism development is to support industry and communities to understand what culinary tourism is, what it means for your destination, and the role they can play in contributing to its development. This type of capacity-building work and engagement with industry and communities helps inform the direction of development and secure buy-in for the strategy.
Culinary tourism strategy development can also support tourism development initiatives. In other words, you can actively build your culinary tourism strategy so that it aligns with your organization and partners' past and ongoing destination development efforts.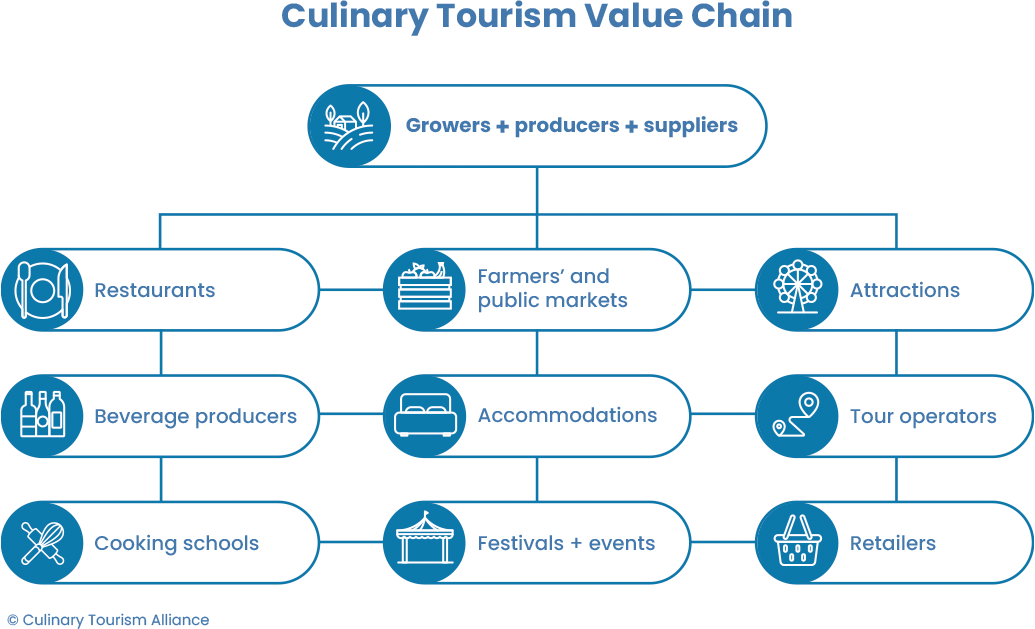 What types of opportunities could come from developing your culinary tourism strategy?
Approaches
Opportunities across the development of your strategy will benefit from the right approach. Defining the approach to your strategy development process ensures that you and your team have a clear direction for how the overall project will be caried out in the context of your destination.
There are a number of strategy development approaches to draw from and customize, some examples include:
Approaches
Description

Approaches

Community-based participatory research

Description

This approach focusses on active participation by the project team and the communities across the project. For culinary tourism strategy development it means collaboratively building the strategy methodology with partners, if being pursued in partnership, and engaging with communities and industry as active contributors to the research that will inform the resulting strategy's priorities and way forward.

Approaches

Collective awareness and capacity-building

Description

A main focus is to build awareness about a specific topic or initiative among a range of stakeholders. This approach leans on networks and collaborative solutions for research and strategy development. Capacity-building is a main focus and can include workshops on culinary tourism and partnership development sessions, among others.

Approaches

Transparent and participatory governance

Description

Grounded in empowering stakeholders to participate in public decision-making. This approach is often used in political contexts and to improve public accountability. Within the context of culinary tourism, it points to collective decision-making processes and collaborative strategy development.
Selecting Your Approach
There is no specific approach that is best suited for culinary tourism strategy development. In destination development, there are rarely any "one-size-fits-all" solutions, and the same is true when considering what approach fits your environmental, political, social, and cultural contexts. Regardless of the specific approach, or mix of approaches, that you choose to adopt or adapt for the development of your strategy, it is important that you ensure your approach facilitates engagement with the diversity of stakeholders in your destination. This includes opportunities for active participation in identifying assets and priorities, building awareness, and building capacity across your project.
It is equally important to actively consider the goal and objectives of your culinary tourism strategy when defining your approach. In other words, ask yourself why you, your team, and your partners are undertaking this work. Based on your answers, determine how a specific approach or mix of approaches can best support your goals and objectives.
What approach will take to develop your culinary tourism strategy?
Ownership
Before setting out on strategy development work, it is important that you and your team answer the question:
Who does this strategy belong to?
In other words, you need to build consensus around who the strategy is for, before you begin the process.
Who will be responsible for implementing your culinary tourism strategy?
Roles and Responsibilities
Your culinary tourism strategy development project team needs to account for a number of roles, key responsibilities, skills and competencies. Importantly, the team you put together needs to be comfortable scoping and carrying out work for culinary tourism development. This means having expertise in culinary tourism development.
Having a decision maker as part of the project team facilitates buy-in across your organization and supports the implementation of your strategy. Additionally, you can look to include and leverage the capacity and expertise of any existing committees or working groups related to culinary tourism that exist in your destination.
Your team should know how culinary tourism fits into overall destination development and have the knowledge or ability to learn about what makes your destination unique and how to grow it sustainably. Some key roles and responsibilities, skills, and competencies of a culinary tourism strategy development team include, but are not limited to:
Key Roles
Responsibilities, Skills, Competencies

Key Roles

Project Manager
Local Leads
Researchers
Project Coordinators
Industry Experts
Working group members

Responsibilities, Skills, Competencies

Project management
Ongoing communications
Meeting facilitation skills
Presentation skills
Research planning and tool design
Output review
Research and analysis
Conducting interviews
Report writing and revision
Research coordination
Community engagement skills
Knowledge of tourism development
Cross-cultural competencies
Connections to local stakeholders
Adaptability
Critical thinking
Open-mindedness and willingness to learn
Sustainable tourism knowledge
Monitoring and evaluation
It's important to ensure that a range of perspectives are present in your strategy development team. For this, you will need to think about the types of experiences, backgrounds, and areas of expertise that you want to draw from. Additionally, across the development of your culinary tourism strategy, you will need to include the diversity of businesses, cultures, partners, and other stakeholders, who can contribute to, and would benefit from, a culinary tourism strategy.
Creating a task force to support the development of your strategy is a good method to bring in a variety of perspectives, experiences, and backgrounds. When involving industry members in your task force, consider the capacity they have to participate in meetings or to review materials. Importantly, aim to include both culinary tourism champions and new stakeholders, who may not have been involved in past culinary tourism development work, but bring equally valuable perspectives. A good practice is to identify specific individuals that you would like to include and create an invitation to participate that outlines their role and responsibilities as part of the task force. This includes the number of meetings that they will be expected to attend, and the types of contributions they will provide across the project.
Who will lead the development of your strategy development process?
Do you and your organization have the expertise and capacity to lead and facilitate the development of a culinary tourism strategy?
What cultural groups or organizations in your area need to be included across the project?
Who are the Indigenous groups in your destination who could contribute to and benefit from this strategy?
Who are the local experts invested in this work who could be engaged for the strategy?
Does your project team include a diversity of backgrounds and perspectives?
Methodology
Before designing your methodology, reflect on how your approach influences the methods and actions you will employ across the development of your culinary tourism strategy.
The types of roles and range of responsibilities needed for your project team also have a direct impact on the methods and activities you can use when developing your strategy. In other words, certain methods will require a particular type of experience or level of expertise, which you will need to make sure is represented within the project team you assemble.
Designing Your Methodology
Before starting your culinary tourism strategy process, think about how you will implement the strategy. This includes earmarking budgetary resources, identifying who will lead implementation, and determining the ideal timeline for the implementation of your strategy.
Your methodology will need to have a structure and flow. This can be achieved by breaking out the methods and related activities into phases. Since your strategy development process needs to be adaptable to context changes, consider how to remain flexible to various in-person and online methods.
Below is a list of suggestions and by no means exhaustive. It is not meant to prescribe the development of your culinary tourism strategy. In other words, they are a guide to help you customize the types of phases and their flow to correspond to your timeline, local context, the needs of your stakeholders, and complement or inform the roles and responsibilities of your team.
Work Planning
Before starting the work to develop your culinary tourism strategy, you need to plan the work ahead. Factors that will influence your work plan include:
The approach you are taking
The mix of individuals who make up the strategy development team
The timeline for strategy development
The days available across each specific team member
The budget for strategy development
Importantly, these factors relate and influence each other. The combination that you end up with has pros and cons.
On top of considering the above factors, consider how much budget is available or earmarked for implementation and make sure that resources are allocated to action your strategy.
Work planning can take a variety of shapes, from narratives, to detailed spreadsheets, to online technologies or applications. The most important factor to consider is what tools would facilitate your team's success. It is very likely that by looking at how your team currently works and what has worked well in the past, you will be able to identify specific tools and methods to facilitate work planning.
How are you work planning your strategy development process?