For Destination Partners
03 Assessing Your Readiness
Culinary Tourism Strategy Development
Guidelines
3
Resources
//
Guidelines
//
03 Assessing Your Readiness
Timing
There is never a perfect time to proceed with the development of your culinary tourism strategy. No matter when you begin and end the process, there will be factors beyond your control that will affect it. These will influence when the research takes place, who you engage, what methods you use, how far you plan ahead, and ultimately, the strategies that you decide to pursue.
Times of crisis, such as the COVID-19 pandemic, only add to the impacts that external factors can have on strategy development. It is then important for you to anticipate as many of these as possible before you begin the process. Equally important is that you begin the process if you are ready, despite external factors. Having a plan for making food & drink a meaningful part of every visitor experience can help you to respond to change, build resilience in your destination, and empower your stakeholders. The key is to build flexibility into your methodology and process, so that you can be responsive to your environment, including the needs of tourism stakeholders in your destination.
Is it the right time for you to proceed with the development of a culinary tourism strategy?
Alignment
Culinary tourism, like any form of niche tourism, does not exist in a vacuum and should not be perceived as the solution for a destination working to develop and grow. Food & drink products and experiences are means to attract visitors and elevate the visitor experience. They can also be used to exceed the expectations of visitors motivated to come to your destination for other reasons.
Whether food & drink are your primary or secondary focus, it can be part of a more integrated approach to destination development, marketing, and stewardship. Put differently, your culinary tourism strategy may serve to refresh, supplement, or complement current, past or future tourism strategies.
How does growing culinary tourism align with your destination development plans?
Investment
Regardless of when you begin to develop your strategy, and whether it will become part of, or inspire a broader destination development plan, it is very important that you and your tourism stakeholders are invested in the process. You will need resources to develop your strategy, including time, energy, and effort. You will also need to ensure that those stakeholders who are best positioned to contribute to the strategy development process—and benefit from its implementation—are interested, willing, and able to support its development.
Stakeholder insights, input, and feedback are invaluable resources to you, and the future of culinary tourism in your destination will depend on whether key stakeholders were listened to and see themselves in the final strategy.
Significant investment will also be required to implement your strategy, and it is not expected that you are the sole source, so it is important to connect with strategic partners before, during, and after the strategy development process. Culinary tourism growth and development is a collaborative effort that requires ongoing investment from a breadth and diversity of actors.
Are you and your stakeholders ready to invest in culinary tourism development?
Ecosystem
By definition, an ecosystem is a community that is made up of diverse actors interacting with their shared physical environment, and this is defined by a specific geographic area.
Considering that food & drink products and experiences are the manifestation of a community of stakeholders that have come together to celebrate their foodways with visitors to their place, it is both constructive and important to think of your culinary tourism strategy as the product of a tourism ecosystem.
Foodways address who, what, where, when, why, and how food becomes part of the fabric of a community. They shed light on the physical, social, cultural, economic, and spiritual factors that inform their experience of food.
In other words, your culinary tourism strategy needs to be situated within a context that includes the economy, society, and environment. Each of these areas are full of intangible and tangible assets you can leverage during the development of a culinary tourism strategy that is unique to your destination.
It is important to think about how cultures are currently and have been connected to your destination through food. Perhaps there are Indigenous-led projects that connect individuals to traditional territories and ingredients, or perhaps the rural area has a long history of agricultural production. With this in mind, there is a breadth and diversity of culinary tourism stakeholders, including individuals, businesses, and organizations that operate with your tourism ecosystem and need to be mobilized as part of your strategy development process.
Taking a whole systems approach to culinary tourism strategy development better positions you to connect your visitors to the rich food histories, heritage, cultures of your destination, and most importantly, to the people who bring these all to life through their traditions, practices, and stories. This will also help you build a strategy for culinary tourism development that is grounded on the amazing landscapes, buildings, and businesses that define your destination.
Each and every actor within your tourism ecosystem has a unique combination of capital, ranging from experiential and intellectual to financial and material, and everything in between. Your willingness to identify and leverage the pool of capital within your destination, in a responsible manner and to the benefit of all involved, will result in the development of a culinary tourism strategy that is greater than its parts.
The ecosystem from which your culinary tourism strategy will take shape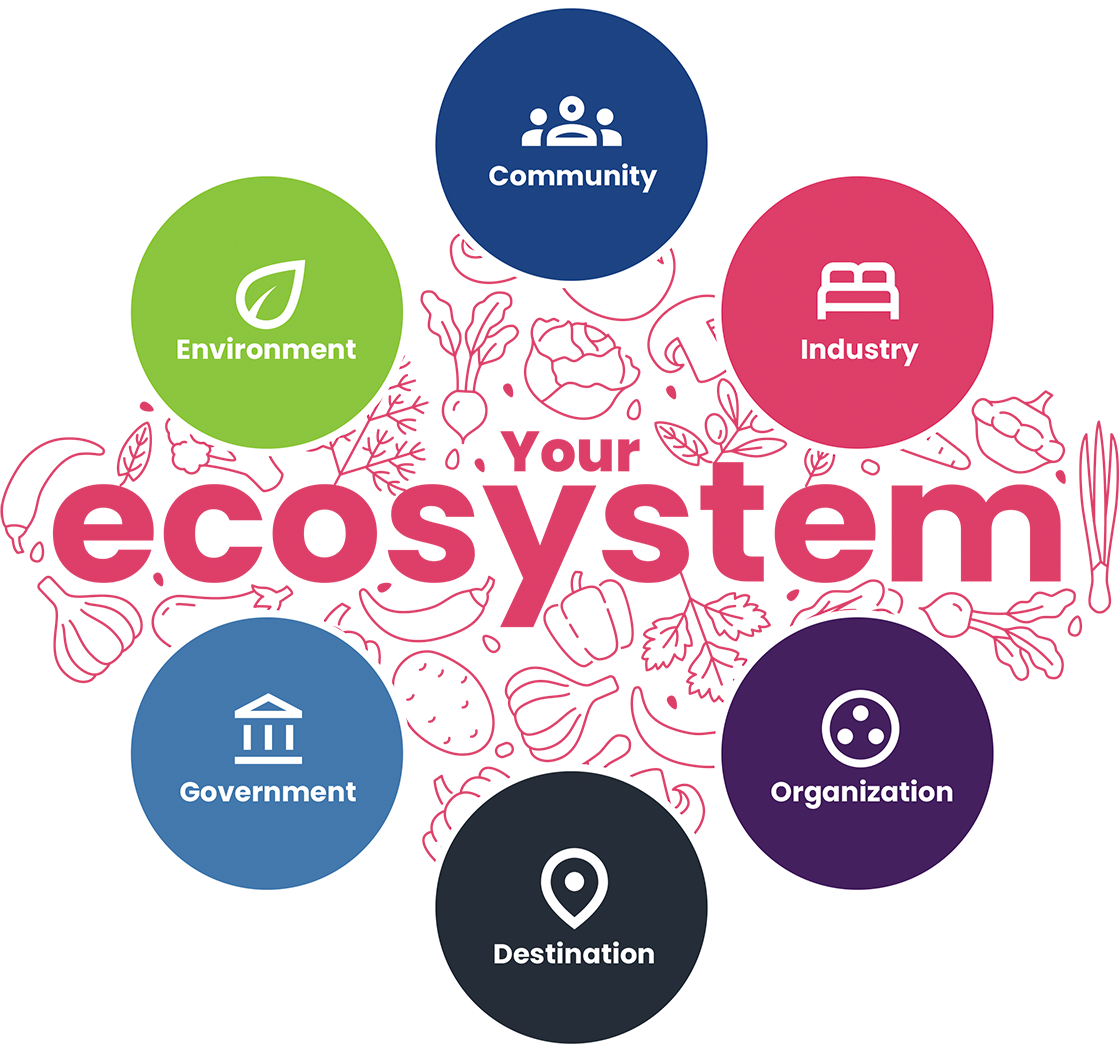 What does your tourism ecosystem look like and how can culinary tourism flourish within it?